Pin It
***THIS GIVEAWAY IS NOW CLOSED***
Thank you to all who entered and congratulations to the following winners;
DTLL Prize Pack A - Trish Taylor
DTLL Prize Pack B - Milina Opsenica
Howards Storage - Karen Turber
Uberkate - Kylie Dickson
I have been busting at the britches (whatever they may be) to get this giveaway started, as I seriously have an insane amount of awesomeness to giveaway today from some insanely awesome companies.
In fact I have over $3000 worth of goodies up for grabs and there will be four lucky winners!
I am not going to waste your time or mine rambling on because I figure by now you aren't even reading me anymore... you have already started scrolling down to take a look for yourself at all that awesomeness I speak of.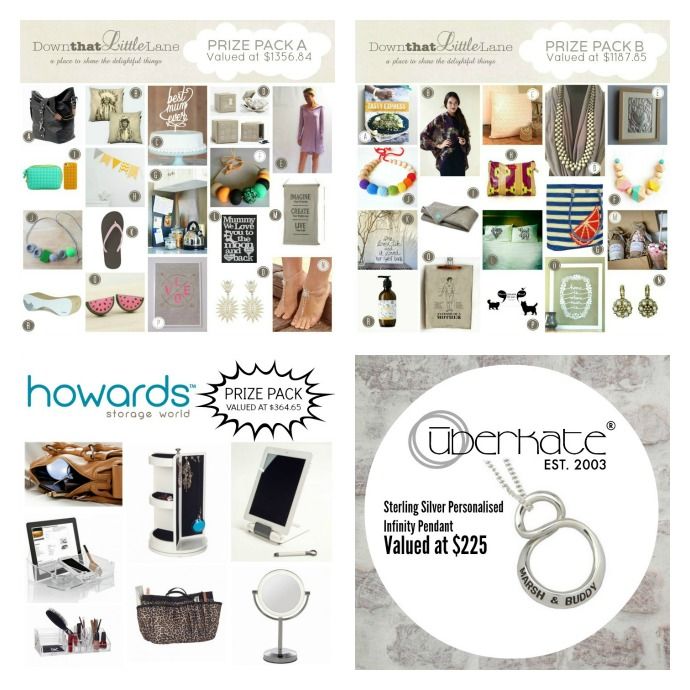 The first two prize packs up for grabs are from the gorgeous Down That Little Lane or DTLL, as it is also known.
Down That Little Lane is a fabulous community of stores all gathered together on one beautiful website.
Each one of the 550 plus boutiques have been
personally selected by the fabulous woman behind this business - Tessa. The stores come
from everywhere and anywhere and all sell unique, handmade and bespoke items.
You are sure to find something special for yourself or anyone you happen to be shopping for.
A word of advice though, allow yourself a good chunk of time to shop when you click over to this website as you are going to have a hell of a time tearing yourself away.
A group of some of DTLL's most popular sellers have put together two incredible packs of goodies for 2 lucky winners - Prize pack 1 is valued at $1356.84 and Prize Pack 2 is valued at $1187.85
DOWN THAT LITTLE LANE - PRIZE PACK A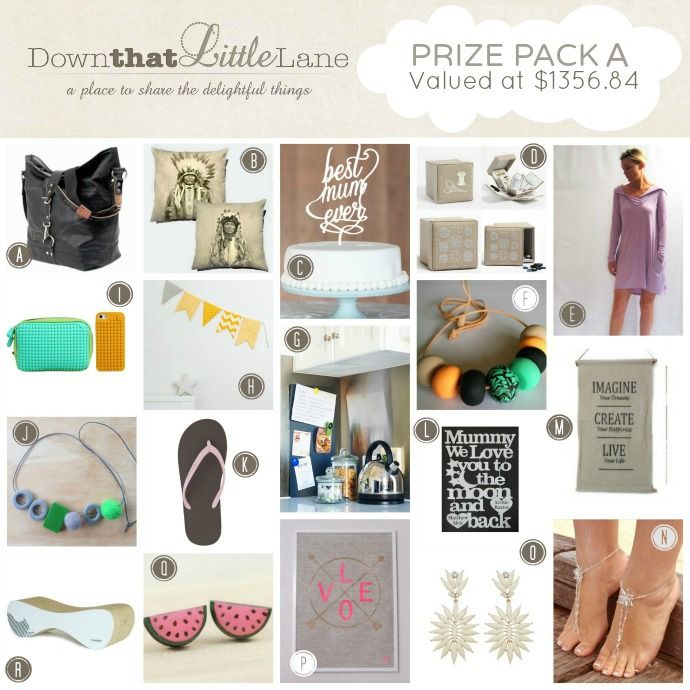 a:
Leather Jacket Tote Bag
/ from
peace4youBAGS
b:
Charging Bear & Chief Shooting Hawk Pair of Cushions
/ from
Alex & Xavier
c: Best Mum Ever Cupcake Topper / from
Communicake It
d:
A Sewing Box
&
A Button Box
/ from
Nana Huchy
e:
Bamboodie Bamboo Hoodie
/ from
Eco Peko
f:
Cassandra & The Minty Beetle Necklace
/ from
Marea Blue
g:
Rectangle Magnet Board
/ from
Fletcher May
h:
Bright Yellow Bunting
/ from
Wholehearted
i:
UPixel Pixel Art Phone Cover
and
Ladies Clutch
/ from
Unayi Pixel Art
j:
Felt Ball & Resin Bead Necklace
/
from Filz Inc
k:
Organic Pink & Brown Thongs
/ from
Malc&Andi
l:
Personalised To The Moon & Back Art (Unframed)
/ from
Dimple Lane
m:
Your Life Wall Hanging
/ from
Kaamer Design
n:
Lotus Flower Swarovski Crsytal Barefoot Sandals
/ from
Starlite Creations
o:
The Sedgwick Earrings
/ from
Lady Fox Accessories
p:
Love Linen Artwork (Unframed)
/ from
One in A Melon Designs
q:
Watermelon Earrings
/ from
Bok Bok B'Gerk
r:
Vigo Cat Scratcher
/ from
Mebel Pty Ltd
DOWN THAT LITTLE LANE - PRIZE PACK B
a:
Tasty Express Cook Book
/ from
Tasty Circus
b:
Dressy Bessy Miss Kimono
/ from
Dressy Bessy
c:
Kusshon
/ from
Will & James
d:
Lightweight Eco Wood Necklace & Snood Wrap Set
/ from
Elements Yoga
e:
Bright Silver Framed Mexican Good Luck Heart
/ from
Summer Svenson
f:
The Happy Necklace
/ from
Birdy Num Num Design
g:
Nautical Orange Tote
/ from
Oliver's Twisty Tales
h:
Ikat Lime Large Cosmetic Bag
/ from
Amelia's Armoire
i:
PoshPlay Playmat
/ from
Petit
j:
Rainbow Nursing & Teething Necklace
/ from
Simply A Circle
k:
Hand Painted Words on Word - Inspire
/ from
Larkbird
l:
Diamond In The Rough & Good As Gold Pillowcase Set
/ from
Dustys & Lulu
m:
Mother's Day Hot Chocolate & Cookies Gift Pack
/ from
Sweet Health
n:
Une Ligne Paris Perle Flower Earrings
/ from
Bijoux Collection
o:
Home Is Where Mum Is Papercut Artwork (Unframed)
/ from
Ant Design Gifts
p:
Carlin Quote & Dog & Cat (Unframed)
/ from
Soph & Son
q:
Anatomy Of A Mother Teatowel
/ from
Foolhouse
r:
Metta Skincare Body Oil
/ from
Metta Skincare
HOWARDS STORAGE WORLD - ORGANISED MUM PRIZE
There is no doubt about it - I'm such a huge fan of Howards Storage World and they have come to the rescue and saved my family and I from disappearing under a pile of disorganised clutter on more than one occasion.
You may remember our Man Cave makeover or perhaps it was the Kitchen and Pantry Organisation that got your OCD heart fluttering.
Well now, it's time to get the heart of the family organised - us Mums.
HSW have put together a pack of organisational delights so that the winning Mum can feel more organised than ever before.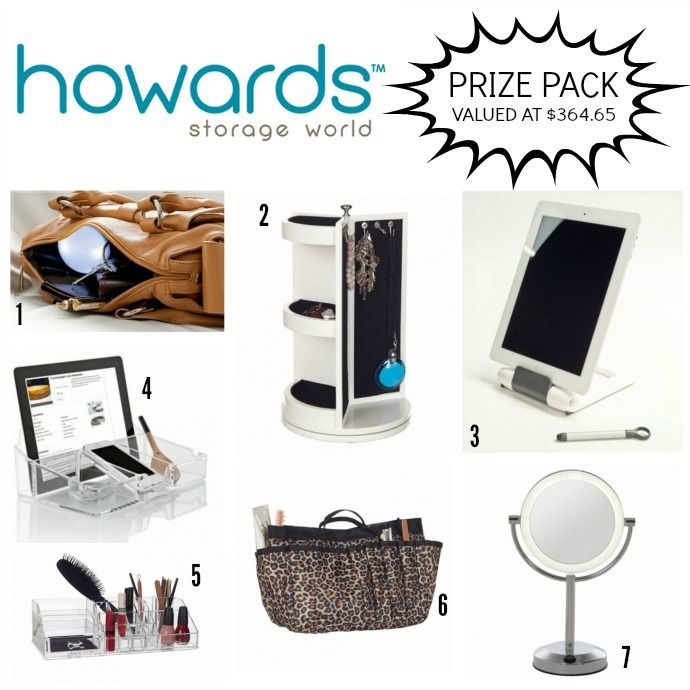 1:
SOI Handbag Light
No more fumbling in a dark bottomless pit with this baby!
2:
Rotating Mirror Jewellery Case
Keep your precious jewels safe and organised.
3:
iPrep Stand & Stylus
Perfect for cooking in the kitchen and no sticky fingers on your iPad with the stylus.
4:
Large Tablet Organiser
Keep your iPad, iPhone and Accessories all neatly compartmentalised.
5:
Glam Deluxe Organiser
No need to hunt down the fave lippy and mascara anymore.
6:
Leopard Print Handbag Inset Organiser
Makes changing handbags a breeze.
7:
LED Pedestal Double Sided Light
Pluck and apply with ease and light.
UBERKATE - INFINITY PENDANT
If you can imagine a woman with the most beautiful heart who creates every piece of jewellery with absolute passion and love, then you have just pictured the gorgeous Kate - the designer behind the Uberkate range of Jewellery and the one and only Original Ubercircle necklace.
The Infinity range of Pendants are the perfect way to tell someone that you love them to infinity and beyond and there is an even more perfectly imperfect story behind this beautiful piece.
My hubby brought me this pendant for Christmas and not a day goes by where I don't wear it as either a bracelet or a necklace.
Uberkate has something that every Mum will fall in love with this Mother's Day.
Kate has very generously offered up a Sterling Silver Infinity Pendant on 45cm chain, valued at $225 to be personalised for the lucky winner.
Alright, so now you know what fabulous goodies are up for grabs - over $3000 bucks worth to be precise - it's time to get entering.



All you need to do to enter is leave me a comment telling me which Prize pack you are hoping to win and the tell me how you plan to spend your Mother's Day this year?
You can enter once for each prize pack!
Then make sure you follow the prompts in the Rafflecopter Widget at the bottom of this post to validate your entry.
The competition is open now and closes 03/05/14 at 7pm AEST
Open to Australian Residents only sorry
Winners will be contacted via email and announced on this blog post.