Pin It
This post is brought to you by
Coles
A whole week of eating a good breakfast every . single . day.
7 Days of doing something so easy that will ultimately lead to a healthier life for my family.... OK maybe not totally healthy if I served up ALL of this type of food every day. But healthier just for making breakfast a priority instead of a possible after thought.
Honestly, it was cinch. Not that I am bragging or anything... much.
The breakfasts were all easy and quick to make and best of all the kids devoured everything and hugged me and thanked me after every meal.
Martha Mudguts - eat your heart out.
I may even come to like this cooking slash baking gig.... maybe...
After the first few days we were all waking up hungry and ready to get stuck into making what was on the breakfast menu. The kids were even begging to know what was for breakfast before they went to bed at night.
As for changes in us, well it is a little hard to tell after just one week but we definitely felt more energetic. We woke up with an appetite, I could focus on my work without my stomach growling at me and let's just say that we are lucky to have 4 bathrooms in this house because things were um… moving along nicely, if you know what I mean.
As promised at the bottom of this post I have included all the recipes for the meals we made and you saw on instagram and Facebook.
Let me tell you - every single meal was seriously good and not a single one was knocked back by the kids.
But don't just take my word for it – try them for yourself.
We are now total Breakfast converts!
Don't forget there are loads of scrummy breakfast ideas over on the Coles website. You can
Check them out here
and
here
.
So tell me – did you get into the #7DayChallenge? If so how did you go?
Do you eat breakfast every morning or are you a skipper like I was?
HEART SHAPED EGG IN TOAST
Directions: Use a large shape cookie cutter (it obviously doesn't have to be heart shaped) to cut a shape out of your bread. Brush your bread lightly with a little butter or olive oil and gently toast one side over a medium to low heat. Flip your bread and fill your hole with a cracked egg and cook until however you like your egg. I covered ours with a lid so the yolk cooked a little more thoroughly for the boys.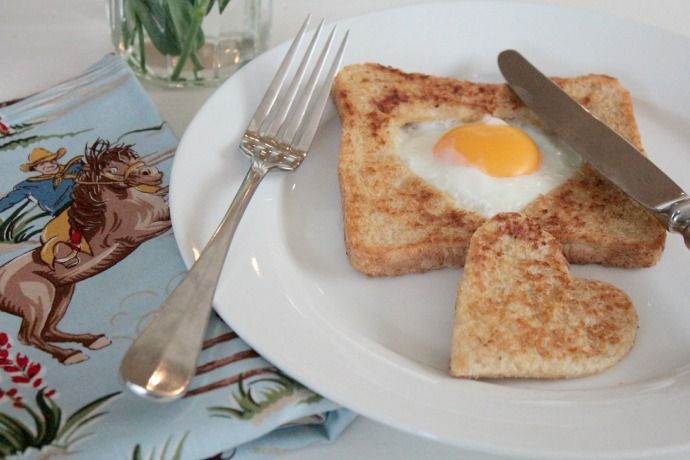 Directions: In a bowl mix together a mashed avocado, diced tomato, finely diced red onion, a quarter teaspoon of garlic, a pinch of sea salt and a good squeeze of lemon.
Lightly brush some thick slices of sourdough with butter or olive oil and place butter side down onto a sandwich press (or a fry pan). Dollop your guacamole mixture onto your bread, and top with your other slice of sour dough (butter side up). Cook until your bread is lightly toasted.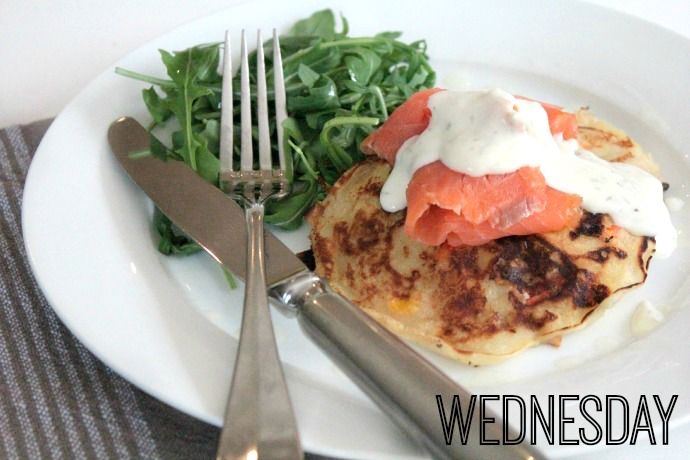 MIXED VEGETABLE FRITTERS WITH SMOKED SALMON
You can
get the full instructions for this recipe here
but rather than making the Cumin and mint yoghurt, I mixed a little creamed horseradish in with natural yoghurt instead.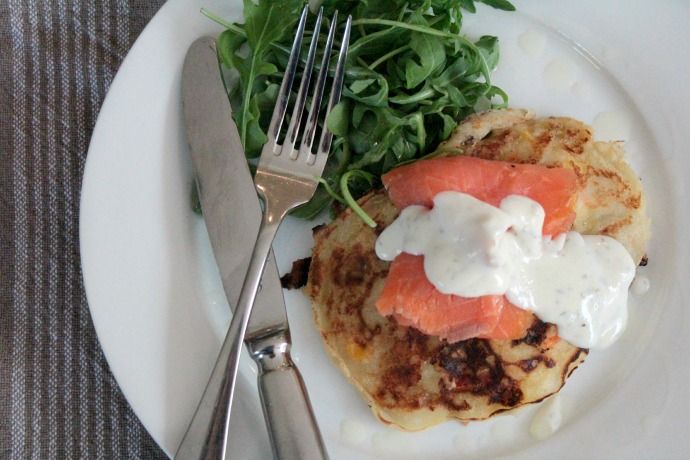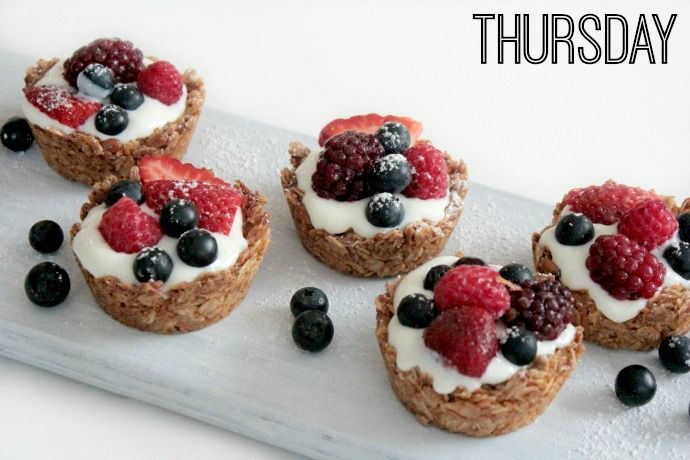 MIXED BERRY AND YOGHURT IN ROLLED OAT CUPS
Directions: Mix in a bowl 1 cup of rolled oats, 1/3 cup of shredded coconut, 3 tablespoons of pine nuts,
2 tablespoons of brown sugar, 3 tablespoons of maple syrup or golden syrup and 3 tablespoons of melted butter.
Combine all ingredients and then press the mixture into a greased muffin tin until you form a thick basket shape.
Bake in a preheated oven at 200 degrees for 10 -15 minutes or until golden brown.
Let them cool before you remove them gently from the tin to avoid breakage.
Top the baskets with some yoghurt and a spoonful of berries. You can sprinkle a little icing sugar on top for some added sweetness… or not.
Tip* You can make the bases (oat cups) up ahead of time and keep them in a sealed container in your pantry just like you would for biscuits. Doing this makes for a quick and easy breakfast.
ZUCCHINI, CARROT AND RASPBERRY MUFFINS
Directions: Mix in a bowl 2 and a half cups of sifted self raising flour, ½ teaspoon of vanilla extract, ¾ teaspoon of cinnamon, 1 medium carrot grated, 1 medium zucchini grated (with skin on), 1 cup of frozen raspberries, 2 tablespoons of brown sugar, 1 cup of milk, 125g of melted butter and 2 whisked eggs.
Mix until combined and then spoon the mixture into a muffin tray.
BANANA AND HAZLENUT CHOCOLATE FRENCH TOAST
This breakfast was da bomb, da bees knees, the instant ticket to heaven. You can
get the full instructions for this recipe here
.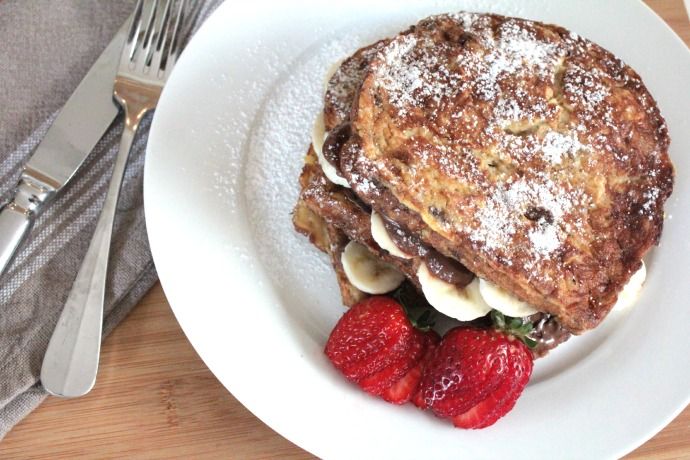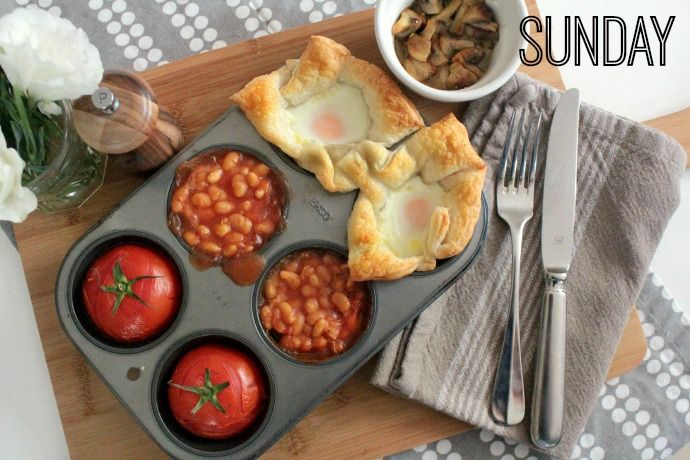 BAKED BREKKIE BEANS, EGG PIE AND SUNDAY MUSHROOMS
Directions: Lightly grease a muffin tin and line two of the holes with squares of puff pastry. Light brush some melted egg or butter over the pastry and crack an egg into each. In the other holes fill them with some vine ripened tomatoes and baked beans and pop the whole tray into a 200 degree pre heated oven for 15 minutes.
Whilst that is baking chop up some mushrooms and sauté them with some olive oil, a knob of butter, a good pinch of sea salt and a clove of minced garlic. Cook until soft and slightly crispy on the outside.
We make a few trays of this and the kids love to share a tray together as do the hubby and I. Minimal fuss and minimal mess and plates to clean up.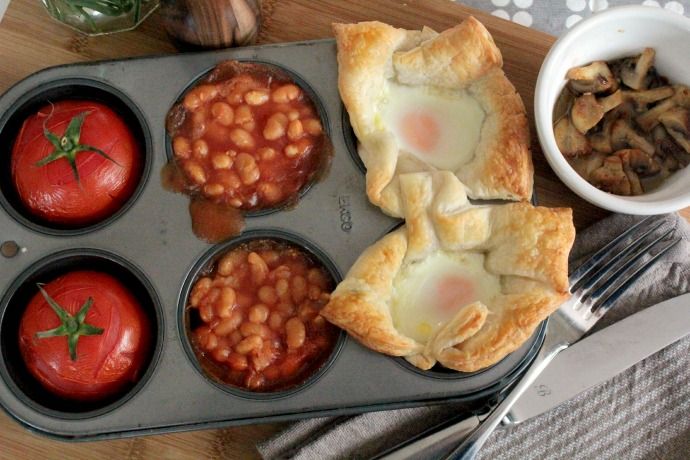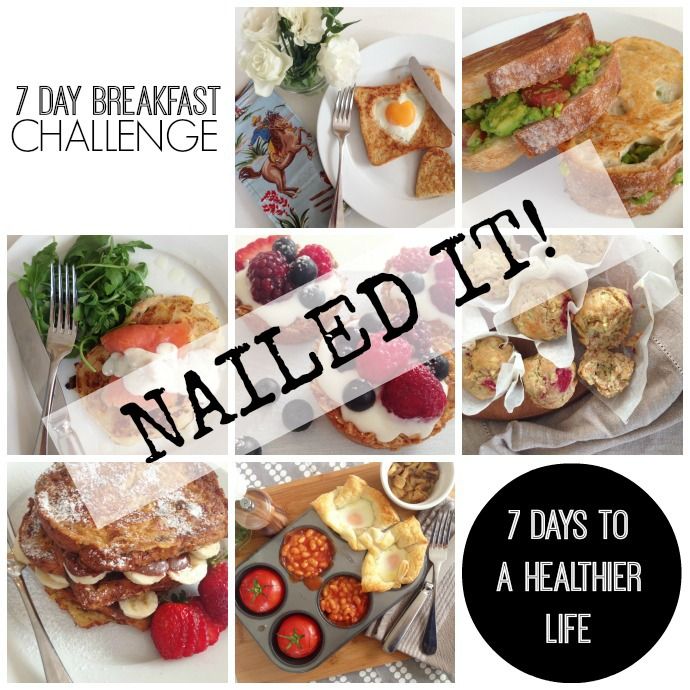 will be announced on Instagram tomorrow!