Pin It
It turns out I am quite the productive little pea when I am suffering from the Monthly
Cranky Cow Syndrome
.
Yup.
You could even say that I have found a silver lining within my irrational monthly mood swings... or not.
I took my hormonal tempter out on the entry walls with paint over the weekend and I have to tell you - it really felt kinda good to get in there and just nail the sweet baby cheeses out of that room.
I pretended I was a contestant on a reality show and the clock was ticking - you know just to keep me motivated and all that. I even talked to an imaginary camera and gave it updates on what I was doing.
Yes - I know. I watch FAR too much reality TV.
But hey - whatever works for you right? And work it did because I powered away for two whole days straight and I felt like a renovating rock star.
Although, that being said - it may have actually been the G&Ts my hubby kept me hydrated with that had me feeling so good, but meh semantics really.
It is incredible the difference a can of white paint a bottle of spack filler thingymajig can make. Talk about brightening up a dead space.
In case you forgot what it looked like before... it was BLAH.
Blah with a side of Blah and a double serving of extra Blah.
Here's a reminder.
And now, here's the bit where I go all TADA on you.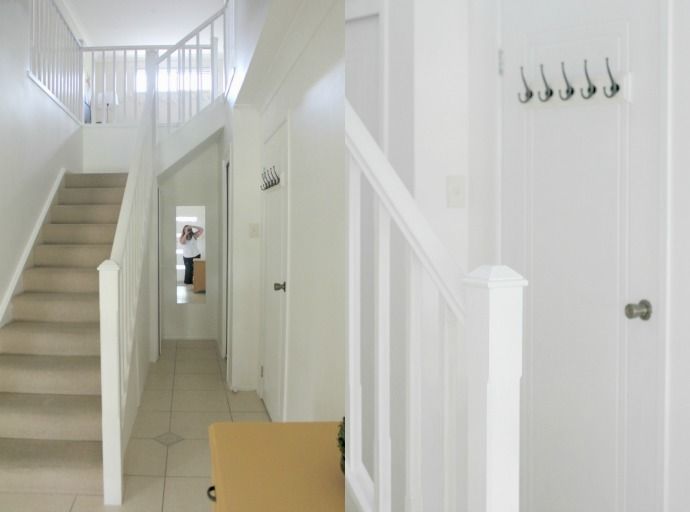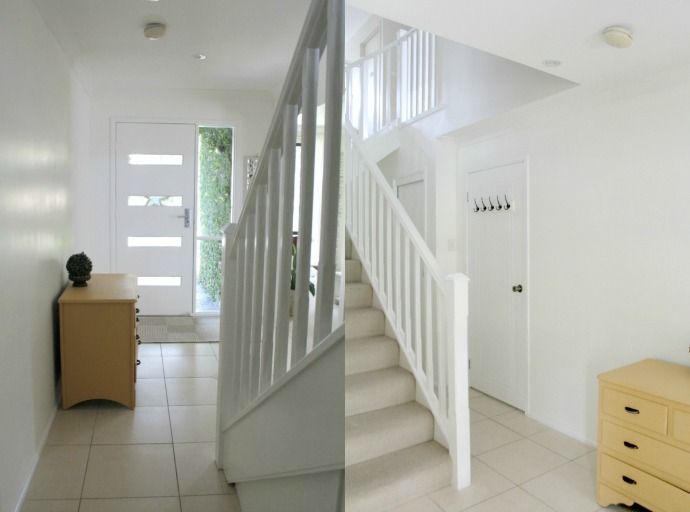 And a side by side before and after because I am feeling especially wanky today after all my hard work.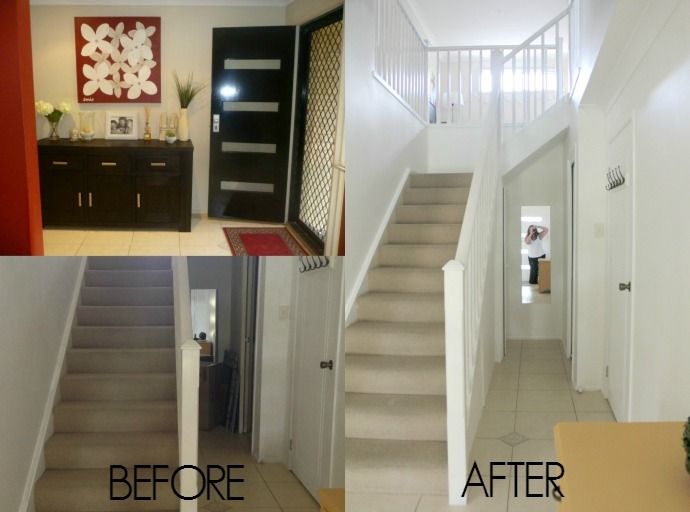 And would you believe - the hubby didn't question me or what I was doing once this weekend?
NOT ONCE.
He just let me faff around with my tube of spack filler and cans of paint like I had half an idea what I was doing.
His perfectly timed torn rotator cuff ( I think that is what it is called) courtesy of a run in with a surfboard and a wave, meant that he couldn't help me with this room and so every time I thought he was even thinking about offering some advice I waved my hand at him and was all "Dude... have you NOT learnt anything about me in these past 20 something years we have been together? I KNOW OK. And even when I
don't know
I still just KNOW".
And then *ahem* I consulted with Google just to be on the safe side.
I needed a little advice on how long it takes for the spack filler to set and I didn't want to ask the husband and risk looking like I didn't actually know what I was doing.
I have pride issues.
Anyway, overnight Google said.
OVERNIGHT??
Pfft there is no overnight on on reality show makeovers and one hour room reveals... and so I ignored the advice Google gave me and painted over it after a couple of hours anyway.
It was
fine
.
What?
I'm a Gemini.
I just know
alright
!
Fingers crossed the paint doesn't go falling off the wall or anything because then that would
really
suck.
I will get better at this. Heck I HAVE to. I have a whole flipping house to makeover so I need to learn fast.. and yes OK... maybe I need to put a little more effort into the planning and prep work too.
Whatever.
The room is now ready for the DIY table I am planning on making this weekend. Please don't laugh! I've totally got this you know.
As for the walls - well, I'm am spending this afternoon working on the artwork project I was telling you about and of course I will do another big TaDa as soon as that is done done and dusted too.
Do you ever pretend you are on your own reality show?
Do you think Google is always right?
How long does it take for the paint fumes high to wear off?