Pin It
***THIS GIVEAWAY IS NOW CLOSED. THANK YOU FOR ENTERING***
CONGRATULATIONS TO: EMMA
Howard Storage World's Christmas catalogue
is available in stores and online now and it is packed full to the brim of Christmas Gift ideas, tips to help you with your Christmas organisation and preparation, mouth watering Christmas recipes and of course loads of gorgeous organisational porn to help ensure you have the Merriest of all Christmases.
The gorgeous gang from Howards Storage have put together a sack full of goodies valued at over $300 for one of my lucky readers to win.
Yep winner takes all you guys, so before you go anywhere or do anything else, head to the bottom of this post and enter.
OK?
OK!
Here's what will arrive on your doorstep if you are the lucky winner.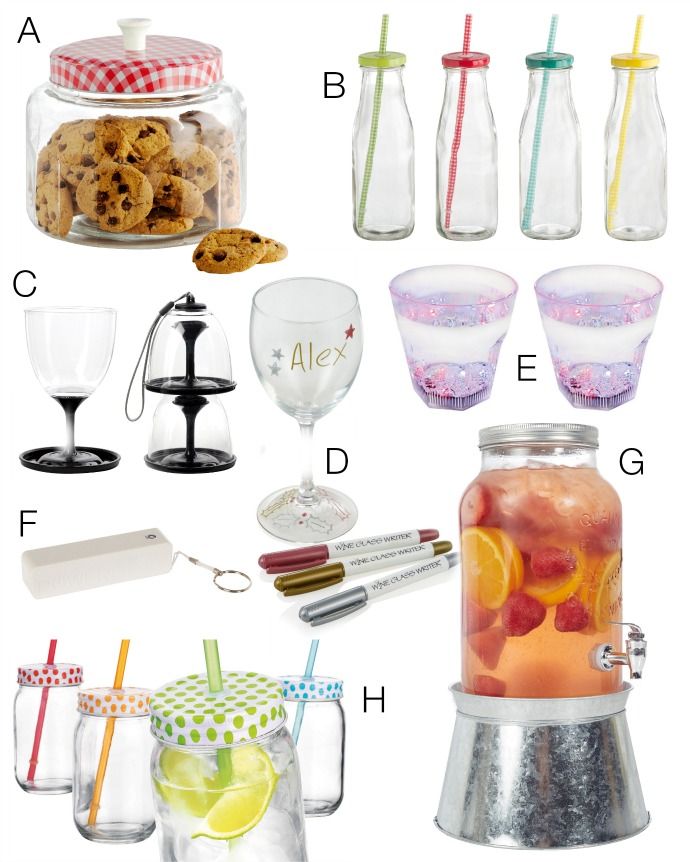 A:
Cookie Jar - Red x 4
This beautiful jar features a unique angular design on its large glass base. Ideal for storing your favourite biscuits, the aluminium gingham patterned lid with its airtight rubber seal will ensure cookies are kept as fresh as the day they were baked (or the packet opened!). A lovely gift idea for Christmas day, why not add layers of dry biscuit mix and a retro recipe label to make it really special.
B:
Retro Style Drink Bottles - Set of 4
Inspired by the old fashioned glass milk bottle style of the past, these cuties come in four lovely colours (red, blue, green and yellow). Their aluminium lids each feature a matching reusable straw, complete with gingham pattern. Made from quality glass, the base is the perfect size for juice, milkshakes or even a signature cocktail. Carrying is made easy with a handy crate that could double as a retro decor piece.
C:
Portable Wine Glasses Set of 2
Stylish and practical, these glasses will add a touch of sophistication to outdoor events. Fully stackable and lightweight, they'll maximise space in picnic baskets, so you have room for all your essentials. Packing up is easy, simply detach the glass, turn it around and use the base as a lid. Carrying is made easy with strong nylon straps on each glass. Ideal for concerts, beach picnics or travelling, these glasses are sure to be a hit at any event.
D:
Wine Glass Writers. Set of 3
Made with non-toxic ink, cleaning off your designs is really easy. You simply wipe off with a sponge and start again! Draw snowflakes, holly or Rudolph's footprints and label each glass, using them instead of place cards on your table. This set includes three pens: silver, gold and red so you can really go to town on your creations.
E:
Aqua Glow Light Up Tumbler - 280mL Set of 4
The amazing Aqua Glow Tumbler features LED lights that are activated when you fill up your cup. There are five lights (two red, two orange, one blue) in each tumbler that flash as soon as liquid enters the base. This cup is powered by two replaceable batteries (included) that last an incredible 30 hours. Once your glass is empty, the lights turn off, extending the life of your batteries. Made from quality polystyrene plastic these tumblers have been built to last. Turn them into party lights by filling them with water and displaying around the dance floor!
F:
Smart Phone Power Bank
No matter where you are, this all-in-one charging centre will ensure that your phone will never run out of power again. It includes a USB cable that connects your smart phone to the small charger, compact enough to fit in a hand bag/briefcase or even a pocket! This small powerhouse is able to fully charge your phone in four hours using a rechargeable 2600 mAh lithium battery which automatically switches off when charging is complete. Compatible with most smart phones, this charger is a must-have!
G:
Drink Dispenser with Base 5.6L
This dispenser finds its inspiration from vintage bottles and mason jars. With a beautiful decor on the front, it really looks the part! Elevated by a galvanised metal base to make filling easy, it will also make a sensational statement on your table. The glass container allows you to add bit of colour (with sliced fruit/mint) to your beverage, adding to the vintage look.
H:
Mason Jar Polka Dot Set of 4 - 440mL
Perfect for iced water, milkshakes or even cocktails, these mason jars are sure to be the hit of the party. This set of 4 each feature lovely metal lids complete with polka dot pattern in various colours (blue, green, orange and red). All come with reusable straws and a beautifully shaped glass base. Ideal for drinks, these cute jars can also be used to serve up delicious desserts like trifle on Christmas day.
All you need to do to enter is tell us in 25 words or thereaouts;
What's your number 1 tip for staying sane at Christmas?
Then follow the prompts in the Rafflecopter widget below to be in with a chance to win.
Competition is open to Australian Residents only and is open now and closes 21/11/14 at 8.00pm AEST